---
Be a Part of a Community Robotics Team:
The team has moved from a school setting to a community based team.  We welcome all those from the surrounding communities, whether public, private, home-schooled, or on-line school, 7th -12th grade, to come and join our team!  Our team is proud to be part of the POP (Piece of the Puzzle) Alliance started by Boneyard Robotics " wanting teams to come together to help build a better future for all students." in an effort to "create a more diverse and inclusive FIRST community" by helping students relate to those with autism.  www.thepopalliance.org.  Our team is also part of the FIRST Like a Girl program that encourages females in the STEM fields, firstlikeagirl.com.  The team  personifies Equity, Diversity, and Inclusion to allow students from all walks of life to be able to participate in a safe and judgement free environment.  
The team participates in outreach events to spark interest in robotics and engineering in others. Becoming a community team gave us the ability to look at new avenues to continue the program that gives students in our rural area the opportunity to obtain scholarships, learn new skills, meet people from all around the state, and even the world, who have a connection to FIRST Robotics.
Team members are expected to be at meetings, travel to competitions & participate in roles to help the team succeed, willing to learn new things and bring their own ideas to the table.  Looking for 7th-12th grade students who need an outlet for their creativity.  Looking for students interested in robotics, scholarships, public speaking, writing, history, computer science, coding, social media, photography, safety, art, and much more.  IT'S NOT JUST ABOUT ROBOTICS!
https://bcbreakouts2019.wixsite.com/website
---
Maybe it is something created from the dark depths of your imagination. Maybe it is something real. What is it? Why is it scary? How do you get rid of it? Tell us all about it – in an original story.
This Halloween, ChildFund and New York Times bestselling author R.L. Stine are looking for kids and teens between the ages of 6 and 18 to become published writers by entering our #MyScariestMonster Contest!
Share this special message from R.L. Stine with your parent or teacher. Then read on for more contest details, rules and how to enter.
Contest Details & Rules
The #MyScariestMonster contest is open to kids everywhere, including those in ChildFund's programs around the world. The contest will have three winners – one in each of the following age categories:
Winners will be chosen by a panel of judges including R.L. Stine, bestselling children's writer and former pro wrestler Mick Foley and ChildFund President and CEO Anne Lynam Goddard.
The three contest winners will be announced on ChildFund's social media pages on Halloween, October 31, 2020. If your story is a winner, it will be published on ChildFund's website and social media pages for the world to see! Winners will also receive an autographed book from R.L. Stine.
Here are a few important things to know.
You may only submit one story for the contest.
Your story may be fiction or nonfiction (made-up or true).
Your story may not be longer than 4 pages (handwritten or typed).
Your story may be illustrated if you wish, but illustrations are not required.
Your story must be turned in, along with a recent photo of you and a completed submission form signed by a parent or guardian, by October 14, 2020.
Ready to write and get published?
---
---
Integration of Computational Thinking into K-6 Standards:
Use linked URLs in this matrix designed by our regional K-6 educators who aligned the Code.org curriculum with the NC SCOS!
---
STEM Everyday Podcast
STEM is not a class you teach…it's a culture you build!
-Chris Woods
#DailySTEM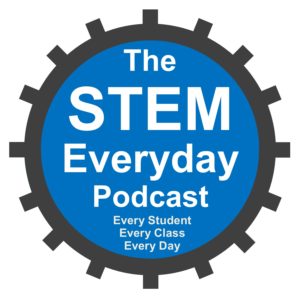 The STEM Everyday podcast (started 6 years & 170+ episodes ago) provides practical help for teachers to infuse STEM (science, technology, engineering, and mathematics) into their everyday lessons. Each week I interview educators, authors, & innovators who are finding innovative ways to add STEM to their everyday classrooms, schools, and communities.
Subscribe to the STEM Everyday Podcast on iTunes or on your favorite podcast app!
Check out the links to episodes below
If you're interested in being a guest on the STEM Everyday Podcast, send me an email at dailystem@gmail.com (also, for quick STEM & education ideas, subscribe to my YouTube Channel)
Episodes:
It doesn't matter what subject or grade level is being taught, STEM can be incorporated into all classrooms and every home. This podcast aims to help educators give their students opportunities to learn and take charge of their learning.
---
the Daily STEM News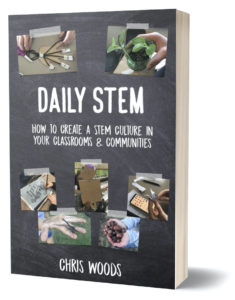 A FREE one page weekly "newspaper" to help inspire kids to engage with STEM in the real world. Each issue can be printed or shared digitally with the kids you know. Literacy & STEM…better together!
Or share the link to this issue directly with your kids: 
http://dailystem.com/wp-content/uploads/2020/09/the-Daily-STEM-V3.3.pdf 
(If you or your students are interested in helping with an issue of the Daily STEM, send an email to dailystem@gmail.com for more information!)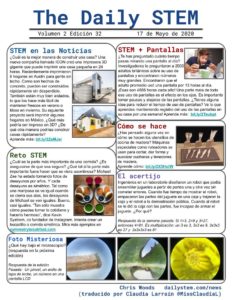 Vol 2 Issue 30…(Spanish)Vol 2 Issue 29…4/26/20Vol 2 Issue 29…(Spanish)Vol 2 Issue 28…4/12/20Vol 2 Issue 28…(Spanish)Vol 2 Issue 27…4/5/20Vol 2 Issue 27…(Spanish)Vol 2 Issue 26…3/29/20Vol 2 Issue 26…(Spanish)Vol 2 Issue 25…3/22/20Vol 2 Issue 25…(Spanish)Vol 2 Issue 24…3/15/20Vol 2 Issue 24…(Spanish)Vol 2 Issue 23…3/8/20Vol 2 Issue 23…(Spanish)Vol 2 Issue 22…3/1/20Vol 2 Issue 22…(Spanish)Vol 2 Issue 21…2/23/20Vol 2 Issue 20…2/16/20Vol 2 Issue 19…2/9/20Vol 2 Issue 18…2/2/20Vol 2 Issue 17…1/26/20Vol 2 Issue 16…1/19/20Vol 2 Issue 15…1/12/20Vol 2 Issue 14…1/5/20Vol 2 Issue 14…(Spanish)Vol 2 Issue 13…12/15/19 Super-Double Issue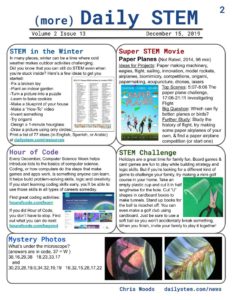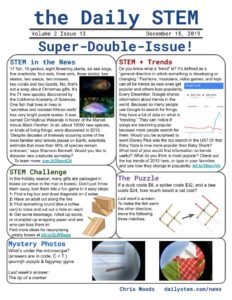 Vol 2 Issue 12…12/8/19Vol 2 Issue 11…11/24/19 & 12/1/19Vol 2 Issue 11…(Spanish)Vol 2 Issue 10…11/17/19Vol 2 Issue 10…(Spanish)Vol 2 Issue 9…11/10/19Vol 2 Issue 9…(Spanish)Vol 2 Issue 8…11/3/19Vol 2 Issue 8…(Spanish)Vol 2 Issue 7…10/27/19Vol 2 Issue 7…(Spanish)Vol 2 Issue 6…10/20/19Vol 2 Issue 6…(Spanish)Vol 2 Issue 5…10/6/19Vol 2 Issue 5…(Spanish)Vol 2 Issue 4…9/29/19Vol 2 Issue 3…9/22/19Vol 2 Issue 2…9/15/19Vol 2 Issue 2…(Spanish)Vol 2 Issue 1…9/8/19Vol 2 Issue 1…(Spanish)Vol 1 Issue 11…8/18/19Vol 1 Issue 11…(Spanish)Vol 1 Issue 10…7/28/19Vol 1 Issue 9…6/30/19Vol 1 Issue 9…(Spanish)Vol 1 Issue 8…6/16/19Vol 1 Issue 8…(Spanish)Vol 1 Issue 7…6/2/19Vol 1 Issue 7…(Spanish)Vol 1 Issue 6…5/26/19Vol 1 Issue 6…(Spanish)Vol 1 Issue 5…5/19/19Vol 1 Issue 5…(Spanish)Vol 1 Issue 4…5/12/19Vol 1 Issue 4…(Spanish)Vol 1 Issue 3…5/5/19Vol 1 Issue 3…(Spanish)Vol 1 Issue 2…4/28/19Vol 1 Issue 1…4/21/19
RECENT POSTS