May the Fourth Be With You!!
Event scheduled for Tuesday, May 11th, 2021
Join our panel discussion with scientists of diverse cultural and professional backgrounds. Students at middle schools and high schools will have the opportunity to see the exciting experiments of Black scientists and speak to and have their questions answered by the panelists. To ensure maximum student participation, we encourage that teachers share the panel in their classrooms. Q&A session to follow. Join us on Zoom from 1-2pm EST.
https://uwmadison.co1.qualtrics.com/jfe/form/SV_3qkW4kwf15wACLc
---
NW Science House Outreach
Summer Opportunity for Teachers & Students
Heard of Science Olympiad but don't know where to start?
Never heard of NCSO, but are ready to start a new and engaging STEM club at your school?
This institute is for you!
Who: Middle Schools & High Schools in Ashe, Watauga, Avery, Burke, Caldwell, and Catawba counties without a Science Olympiad team (or a brand new one!). 1 teacher or administrator and up to 4 interested students to represent their school.
What: Science Olympiad New Team Institute
When: July 27-29, 2021. 9am – 3pm
Where: The North Carolina Center for Engineering Technologies, Hickory
Why: To help schools without a Science Olympiad team get the supplies and knowledge they need to successfully start a Science Olympiad team and compete in a regional tournament in the Spring of 2022.
*teacher stipend, travel, food and team supplies covered by the grant.*
Learn more and apply April 8 – May 15 through this Google form.
All applicants will be notified of their acceptance status by June 1.
This Institute is sponsored through a generous grant from the Burroughs Wellcome Foundation.
---
July 28, 2021
NC Center for Engineering Technologies (NCCET) 1990 Main Ave SE, Hickory, NC 28602
Join us for a day of exploration and invention using a device called a Makey Makey! With the Makey Makey, students can make any conductive material act as a computer keyboard. Because it comes preprogrammed, students with no coding experience can use it and experiment with it as they start to learn coding. Capitalize on the maker movement in your classroom to enhance any curriculum. Teachers joining us will be able to check out a classroom set of Makey Makey kits to use in their classrooms! Participants will receive their own Makey Makey kit! This program qualifies for new Digital Learning competencies!
July 29, 2021
NC Center for Engineering Technologies (NCCET) 1990 Main Ave SE, Hickory, NC 28602
STEM To Your Doorstep! The Science House, NCSU, is conducting a STEM To Your Doorstep Professional Development session for K-16 STEM teachers at The Science House's Northwest Outreach Office located at the NCCET in Hickory, NC! Sign up now to be trained so that you can check out equipment for free from our extensive loan program! This program qualifies for Digital Learning competencies!
September 29, 2021NC Center for Engineering Technologies (NCCET) 1990 Main Ave SE, Hickory, NC 28602Join us for a Professional Development session and learn how to incorporate robots and coding into your STEM curriculum! Once you complete the 1-day workshop, you are eligible to check out class sets of the robots and other equipment used in the session for FREE! We deliver the equipment to your school and pick it up. All you have to do is reserve it online!
December 6-7, 2021Mountain Horticulture Research Station (455 Research Drive, Mills River, NC 28759)Join The Science House for our "Science Lab Safety Train-the-Trainer" Professional Development opportunity which will take place on December 6-7, 2021 at our Mountain Satellite Office. Time 9 am – 3 pm. Come prepared to create or improve upon your school science safety program or Chemical Hygiene Plan. Receive free resources and information so that YOU can train other teachers in your school or science department.
---
Library Announces Grant Opportunity to Enhance Teaching with Primary Sources
Funds Available for Educational Organizations to Create Curricula and Programming, Conduct Research
The Library of Congress today announced fiscal year 2022 Teaching with Primary Sources grant opportunities. Applications are sought from organizations that aim to incorporate Library of Congress resources into educational programs and materials for learners representing diverse professions and communities.
The application deadline is May 28, 2021. For more information about the application requirements and selection criteria, see the "Teaching with Primary Sources Funding Opportunity 2021" on the Teaching with Primary Sources Partner Program webpage.
The grants support the Library's mission to engage, inspire and inform Congress and the American people with a universal and enduring source of knowledge and creativity.
Eligible grantees include: institutions of higher education, colleges, universities, professional associations, library systems, cultural institutions; educational organizations such as K-12 schools, after-school programs, literacy organizations, centers, clubs, associations of home-schooling parents, honor societies; and other professional, civic, regional, state and community groups.
Projects that receive funding may focus on diverse content areas (such as STEM, literacy, social studies, public health and journalism) or populations (such as English language learners, pre-service or in-service teachers, incarcerated youth and members of civic organizations). Applicants can propose using the Library's online collections in one or more of the following approaches:
Deliver educational programming to various categories of learners.
Create and distribute primary source-based educational materials or tools for teaching specific content.
Convene meetings of similar organizations to devise strategies for furthering common learning and teaching goals with Library of Congress materials.
Conduct research with significant practitioner involvement that investigates the impact of incorporating Library of Congress resources into educational initiatives.
Grant amounts will range from $35,000 to $100,000 for a 12-month period, with the possibility of up to two years of additional funding subject to the availability of funds and the grantee's satisfactory performance under the current award. The grant period for initial awards is Oct. 1, 2021 to Sept. 30, 2022.
About the Teaching with Primary Sources Partner Program
Since 2006, the Library has awarded Teaching with Primary Sources (TPS) grants to build a nationwide network of organizations that deliver educational programming, and create teaching materials and tools based on the Library's digitized primary sources and other online resources. Each year members of this network, called the TPS Consortium, support tens of thousands of learners to build knowledge, engagement and critical thinking skills with items from the Library's collections.
About the Library of Congress
The Library of Congress is the world's largest library, offering access to the creative record of the United States — and extensive materials from around the world — both on-site and online. It is the main research arm of the U.S. Congress and the home of the U.S. Copyright Office. Explore collections, reference services and other programs and plan a visit at loc.gov; access the official site for U.S. federal legislative information at congress.gov; and register creative works of authorship at copyright.gov.
Public Contact: Vivian Awumey, vawu@loc.gov
Website: Grant Opportunity for Teaching with Primary Sources
Elizabeth Torkelson
Congressional Relations Specialist
Congressional Relations Office
Direct: (202) 707 – 8528
Office: (202) 707 – 6577
---

Don't miss the STEM Night Series on May 6, 2021.
We're excited to feature Dr. Anita Sengupta in the upcoming STEM Night Series. Dr. Sengupta will share her personal journey, the Robotic Missions she has led, and her pioneering work in Mars Landing systems. We hope you don't miss out!
When young girls see and hear from female role models, they are able to picture themselves as future innovators, scientists, and leaders. We invite you to register for this upcoming STEM Night and get a taste of Project Scientist's Virtual STEM Lab. It's FREE and everybody's invited.
Register for STEM Night Series

Virtual STEM Lab – More weeks, more discounts!
Are you having a hard time deciding which week to pick for Summer Virtual STEM Lab? Well, with our new discounts you might not need to pick and choose anymore.
Sign up for 6 weeks and get $100 off! Use code STEMLab100
Sign up for 3 weeks and get $50 off! Use code STEMLab50
Offer ends June 1, 2021.
Virtual STEM Lab – Register NOW



Financial Assistance deadline coming up
Financial assistance is available for the Virtual STEM Lab. The deadline for submission is May 15, 2021. We recommend applying as early as possible. Please reach out to financialassistance@projectscientist.org if you have any questions. Please share this information with deserving families, schools, or organizations that you know will benefit from this opportunity.
Apply for Financial Assistance

Watch Project Scientist on Breakthroughtv
Breakthrough, an organization that uses storytelling to spark powerful conversations around gender and social justicerecently featured how Project Scientist prepares the next generation of women in science who hold the potential to engineer solutions and protect our earth. Follow our Instagram page for this and other stories!
---

Looking for a great virtual event to engage your students, especially older students, and especially girls, in the excitement of STEM Careers?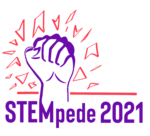 STEMpede 2021 is a FREE virtual event (May 5-6, 2021) focused on young women in STEM. Attendees will learn about the careers of inspiring female speakers as well as the technical side of their work. After all, what better way to learn than from those who are the most passionate. Speakers include Nobel Laureate Donna Strickland form the University of Waterloo, Menita Prasad from the Vancouver Zoo, and many more.
This event will act as a platform for students to learn in more detail about the work and careers of inspiring women in STEM! Young women in STEM will have opportunities to connect with their peers and professors alike.
Sign up FREE at https://stempede2021.carrd.co/
Find out more:
Chris Woods is the host of the STEM Everyday Podcast… Connect with him:
---
---
---